The Foundation Repair Experts | Crack Repair FAQs in St. Loui
Leaking foundation cracks are one of the biggest problems facing homeowners. Cracks can occur in any home, at any time, regardless of its age.
However, most wall cracks pose no structural threat to the integrity of the foundation, and can be permanently and affordably treated by CrackWizard.
Facts About Cracks
Why does concrete crack?
All poured concrete foundations are inherently susceptible to cracking. Concrete consists of cement, sand, gravel and water, and as the water in the slurry evaporates, the remaining ingredients cure in to a hard slab. Over time, the concrete will shrink slightly, resulting in cracked concrete.
In climates where there are extreme variances in moisture and/or temperature, the process of shrinking and settling concrete can be accelerated. When cracks develop in poured concrete walls, ground water could make its way through these cracks, causing damage to finished areas and personal property.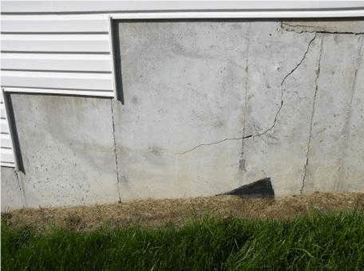 How much does it cost to repair a crack?
Typically it costs $350-$500 to repair one foundation crack, as long as the crack does not exceed ten linear feet in length. Additional cracks become incrementally less in price, depending on the number of foundation cracks needing repair. Is it necessary to repair a crack by excavating from the outside?
No. CrackWizard works from inside the home, eliminating the need for outside digging and expensive repairs. Our exclusively formulated epoxy and urethane sealants and resins provide a permanent, cost-effective solution for foundation cracks. When CrackWizard repairs a crack, it's fixed forever.
What is your warranty and what does it mean?
Our warranty is simple: As long as your house is standing, any crack we repair is guaranteed not to leak. If it does, we come out and repair it at no charge. Plus, our warranty is transferable at no charge, regardless of changes in ownership. Whether you are finishing your basement or selling your home, call CrackWizard for your foundation repair needs.
Are there steps I can take to minimize seepage in my basement?
There are three common maintenance items that contribute to basement leaks: First, check your gutters to confirm they are clean, free of debris, and draining properly. Second, make sure any downspouts are extended away from your foundation. Finally, make sure that the grading of your yard slopes away from the home.
While these steps won't guarantee a dry basement, they are simple ways to minimize the amount of water that could enter your basement.
We want to finish our basement, but we noticed some walls cracks that have never leaked. Should we fix these?
Yes. If you are going to invest money and time in to finishing a lower level, it's a good idea to repair any existing and visible cracks, even if they have never shown signs of moisture penetration. Remember, any crack in a poured concrete foundation is inherently susceptible to seepage. Repairing cracks prior to finishing a lower level is easier and cheaper than repairing cracks after the walls have been covered with drywall or paneling.
Another foundation repair contractor said that if I fix a crack in my foundation, it could cause other cracks to develop. Is this true?
No. The logic behind this assumption is misleading and inaccurate. It's also one of the main reasons homeowners spend thousands of dollars on unnecessary foundation repairs. When a typical wall crack is properly treated, the process does not affect the structural integrity of the foundation. Pressure-injecting a foundation crack will not cause others cracks to develop. Any water that would find its way through a crack will continue down the foundation and migrate in to the earth.
We are selling our house and noticed a foundation crack. Should we have it repaired?
Yes. Homeowners are required to disclose any known house-related defects. Fixing a crack prior to listing your home is always a good idea. This gives buyers the assurance that they won't inherit an unresolved problem, especially when you can provide a warranty for the repair.